This is a book about the arts – the arts all over the world. In it I ask what local artistic life remains since economic globalization has penetrated all corners of our planet, and why this is a question that needs to be discussed.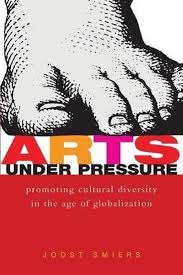 Music, theatre, dance, design, soaps, films, stories, poems, songs, paintings, sculptures and photos are essential forms of communication in every society.
The arts can inform us about our deepest feelings; they can give us pleasure; they can accompany us in times of sadness; they can entertain us; they are often used to entice or persuade us in one way or another. In some societies, various forms of artistic expressi­on have been banned, as they have been considered offensive or dangerous. In more and more societies people are confronted with images or background music almost every moment of the day.
The arts have never been a marginal phenomenon. And today they are less so than ever. Every advertisement is filled with artistic creati­ons. Films, video and music are all big business, as is the book industry. Some parts of the visual arts world are as precarious as the stock market, with huge sums of money changing hands.
The Internet is becoming a very effective transmitter of a great variety of artistic creations. Meanwhile, hundreds of thousands of artists are trying to make a more or less modest living from their work, and only a few make conside­rably more than that.
Introduction
What have these observations to do with economic globalization and worldwide free trade? Or to put it the other way round: why is an artistic life important in any society, and why should this be connected with that particular society and not excessively influenced by cultural and economic forces operating at the global level? The answer is: democracy. What should characte­rize democracy is that many different voices can be heard and many different opinions expres­sed. The public domain in any democratic society is the mental and physical space in which the exchange of ideas and an open debate about all sorts of questions can take place – without interference from state agents, who may have their own agenda, or from commer­cial forces, whose only purpose may be to sell as much as they can.
The arts are crucial to democratic debate and the process of responding, emotionally and otherwise, to the multitude of questions that life raises. For this to happen, a wide diversity of forms of expression and channels of communication is needed. Along with other influences, it is through the books they read, the music they hear, the films they watch and the images they see, that people's opinions are formed – and this is often not at a rational level. The arts – which in this book include all forms of entertainment and design– touch our often hidden emotions and drives, our perceptions of ourselves as superior or inferior, our eroticism, our wish for noise or for quiet, our desire for abundance or simplicity, our preference for philosophical reflection or for living a fast and often dirty life.
It can happen that artistic creations coming from distant parts of the world have a great impact on specific groups of people within a particular society at a certain moment in history. Nevertheless, it is important that a substan­tial part of artistic communication reflects – without being nostalgic – what is going on in any given community, including those formed through the Internet or linking people in various countries and regions. It would be a loss if none of the sentiments expres­sed in the arts were any longer related to the conflicts, the desire for conviviality, the way people enjoy themselves, the specific kinds of humour and aesthetic preferences that are to be found in a particular society.
Moreover, it is important that within any society a diversity of forms of artistic expressi­on are created and distribu­ted by a great diversity of producers and distributors. People are different; and what is more human than hoping to find forms of theatre, music, visual arts, literature or film that express adequa­tely one's own confusions, feelings of delight or aesthetic tastes?
If it is vital to democracy that the arts are created and presented in a way that relates – at least to some extent – to individual societies, one may wonder what the effects of the current economic globalization are. All things consi­de­red, the first priority of the system of worldwide free trade is not respect for anything local. Does this mean that in many societies artistic life becomes delocali­zed? Does it mean that it becomes harder for artists to get their work distributed to a significant extent in their own surrounding? Does it mean that all over the planet most public attention will be focused on a limited number of artistic products and stars that are promoted everywhere? Does it mean that taste will be homoge­ni­zed worldwide? Or would it be more accurate to speak about delocalization taking place everywhere?
These are the kinds of issues I will elaborate on in this book, not forgetting that all over the world many, many artists are creating and performing exciting works of art; they continue to do this; but often one of the main problems they encounter is how to ensure relevant distribution for this diversity.
In the first chapter we will see that the arts are pre-eminently a field where emotional incompatibilities, social conflicts, and questions of status collide in a more concentrated way than happens in daily communicati­on. Add to this the considerable economic interests that always penetrate the cultural field and we find ourselves in an area of human life that is highly charged. This is even more the case now that economic globalization is radically changing the structu­re of many institutions and activities in the cultural field.
In the second chapter we admit that most people watching television, listening to music, reading a book, enjoying a movie or buying a painting are unaware of who owns the means of production, distribution and promotion of these works of art, these vehicles of entertainment or illumination, depending on how one views them. Why should they be? Nevertheless, the question of ownership of the means of cultural production, distribution and promotion is the core issue in a worldwide battle; the fight is about who can reach the largest audiences, rather than just a tiny group of aficionados.
In the third chapter we argue that artists, in rich and poor countries alike, should be remunerated fairly for their work. Many people still maintain that copyright is one of the most important sources of the artist's income, notwithstanding the fact that we know better. In fact, copyright – which on the European continent is usually called authors' ­rights – is becoming one of the most important commercial products of the twenty-first century. This pheno­menon makes it unlikely that the copyright system is any longer protecting the interests of the majority of musici­ans, compo­sers, actors, dancers, writers, designers, visual artists and film-ma­kers. The public domain is dwindling, anyway, with the ongoing privatization of the creative and intellectual commons. To turn this tide, I will propose in the sixth chapter the complete abolition of copyright, which would, according to my analysis, be to the advantage of artists, the public domain and third world countries.
In the fourth chapter I consider the role of the arts in social life, on a local and a global level. At the end of the twentieth century, there were movements that claimed there was no such thing as society. The assertion was that we are all self-determi­ning individuals and global citizens, unhindered by any social convention or contextualizati­on. At the beginning of the twenty-first century we have come to realize that this is only partly true, and, for most people on earth, not true at all. We know too that it is not even desirable to be completely disconnected from our immediate or at least nearby social surroundings. After experiencing the delocalization that neo-liberalism has offered us we know better than ever that the world is too big and too complex for us to be able to orient ourselves within it and try to find something like a safe haven. In this fourth chapter I first list many examples of the vast domain of cultural production that is happening worldwide, and then analyse the cultural delocalization – rather than homogenization – that is also taking place almost everywhere.
The fifth chapter looks at the fact that there is no major constraint on what can be consumed: all social relations, activities and objects can in principle be exchanged as commodities. In today's world, where the cultural conglomerates are able to spread around their ideas of what culture should be, the crucial question is: whose stories are being told? By whom? How are they manufactured, disseminated and recei­ved? Works of art are becoming more and more the vehicles of commercial messages and have the task of creating the ambience in which the production of desire can take place. Often this context is full of violence. Every artistic creation conveys an atmosphere, a content, a reflection on a way of life, an idea of pleasure. The question we should not avoid is: does this influence me, you, us, them? Probably the biggest influence is the absence, from the dominant discourse and consumer culture, of a whole raft of issues. If we think of values such as respect, equality, sobriety, wisdom, conviviality, morality, human solidarity, community, sustainability, or the conviction that inflicting pain or celebrating violence should be avoided, we find that all these, and many others, are actually non-issues for the world of corporate culture.
In the sixth chapter we will look at the New York Times' comment (March 1998) on Bertelsmann' purchase of Random House, namely that this was just business as usual in the publishing world. 'The trouble is simply how familiar this sale feels. It provokes only a sigh, which suggests how much we have come to take for granted the steady convergence of all media under ever widening corporate umbrellas. But in that convergence . . . something is lost – call it the broadly dispersed ownership of media outlets, call it even a productive democratic inefficiency in the marketing of informa­tion. The road away from conglomeration will be a hard one to find.' (Big Bertelsmann, International Herald Tribune, 26 March 1998.) Since then, the New York Times has not made it a priority to find a road away from conglomeration in the cultural field. This part of the book will fill this gap and also propose several solutions to the problems analysed in the previous chapters.
From this short description of the book's contents, it may be clear that this is not a book about individual art forms or a comparative study of the arts in different regions of the world. This would have been impossible; the world is large and the arts are many. This is a study by a political scientist of the ways in which the arts are being pushed and pull around all over the world.
I encountered major methodological obstacles while planning and researching this book, and many questions had to be answered. First, I had to decide whether to do the research alone or with others. In the absence of a team of scholars drawn from all corners of the world, I felt it was better to work on my own. It would be impossible, too, to travel throughout the world, doing research on the spot; for financial reasons this was not practicable; moreover, what could I hope to learn about changes being caused by economic globalization when staying for just a short period in a country or region that I don't know very well or don't know at all? So, I was largely depen­dent on secondary sources. Several daily newspapers, such as Le Monde and the Interna­tional Herald Tribune, as well as monthlies and other journals, contributed greatly to my understanding of day-to-day developments and changes that have not yet been described in studies of any length or detail.
I am grateful to many librarians in various institutes specializing in regional studies and in the fields of arts and cultures. However, not all the books I hoped to find were there; perhaps they have not yet been written. The working circumstances for many scholars in non-Western countries are hard, and they do not always have the opportunity to do the research they would like to on the social, economic and cultural conditions of the arts in their parts of the world. If they have done studies, they may have written their texts in languages I don't know, or they may not have been able to find a publisher operating within the international market. If readers take this as a plea for huge funds for translations and publications, they do so correctly. I will come back to this need in the sixth chapter.
This book is concerned with freedom and protection. For many people, in several parts of the world, it might seem obvious that artists – and artistic produc­tion, distribution and reception – deserve freedom. However, in this time of global neoliberalism, it seems to be less self-evident that we should actively care for the artist as a creator or performer. A rich and diversified cultural climate is something that needs protection. So we have to keep our balance as we walk the tightrope between freedom and protection. Anyone who loves the circus knows this requires great skill, but the result is beautiful.
The book's subtitle is 'Promoting Cultural Diversity in the Age of Globalisation'. Both components of this subtitle – the arts and economic globalization – are the subject of the first chapter.
Contents
Introduction
1. The arts and the world
The arts: an arena of struggle
Specific forms of communication
A triangle and a high-tech-archipelago
2. The power to decide
The effects of sheer size
The question of ownership
Cultural package, political freight, economic weight
Second-tier corporations
Production and distribution on a mass scale
Visual arts markets: as nervous as the stock market
After the magnetic telegraph
3. Doubtful originality
The twenty-first century's most valuable commodity
Hunt the pirates?
Mp3, Napster, freenet…
The concept of originality
Artists still create
A Western concept
4. Local artistic life
De-localization
A vast domain of cultural production
Diversity destroyed in less than a decade
Traditional, folk, popular, world…
Identities: demarcations of differences
Hybridity everywhere, but why?
5. Corporate driven culture
Aesthetics and the land of desire
Something to tell, something to sell
Surrounding the commercial message
Violence travels well
Influence
Arousing desire, awakening memory, creating fantasy
The story corporate culture doesn't tell
6. Freedom and protection
Squaring the circle
Trade: another world war
Re-thinking economic globalization
A new international treaty on cultural diversity
The road away from cultural conglomeration
Cultural policies
Regional infrastructures for the distribution of films
The abolition of copyright
The need for respect and new creative dynamics
Substantial remunerati­on for artists
Protecting cultural heritage
The raid on art
All that's fragile needs protection
The production of discourse is always controlled
The digital domain is not what it seemed to be
7. Everything of value is defenceless
References